House prices ended 2018 up 1.3%, according to the latest Halifax figures. The lender's House Price Index for December showed the market grew within the 0-3% that it forecast at the start of 2018.
Prices were also up by 2.2% – on a monthly basis after 1.2% the month before – leaving average values at the end of last year at £229,729. It comes after house price growth hit a six-year low in November at just 0.3%.
Russell Galley, managing director at Halifax, said: "A stronger monthly growth figure for December improved from a weaker November. Overall, house price growth in 2018 was very much within the range of 0-3%, as we forecast at the start of the year.
"In 2019, we're expecting continued stability in house prices with between 2% and 4% price inflation. This is slightly stronger than 2018, but still fairly subdued by modern comparisons.
"However, this expectation will clearly be dependent on the Brexit outcome, with risks to both sides of our forecast. Of course, there are a number of other factors that will impact the market in 2019."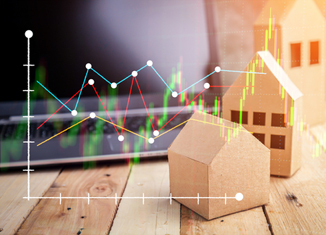 Galley said the need to raise a significant deposit still acts as a restraint for those looking to buy a new home, limiting the number of potential purchasers.
He added: "This year, mortgage payment affordability is more difficult to predict. There are competing pressures with signs of positive annual pay growth supporting affordability, but risks associated with the potential for higher interest rates are pulling in the other direction.
"On balance we do not see affordability pushing house price growth significantly in either direction. The shortage of homes for sale and continuing low levels of house-building both constrain the supply of houses, and in turn support high prices, which will continue to inhibit demand in 2019."
Commenting on the figures, Lucy Pendleton, director at estate agents James Pendleton, said: "The country has marched gamely up to Christmas and, with three months to go before Brexit, is refusing to blink. Last month there were fears the Brexit switch had been flipped as house price growth plumbed six-year lows.
"It looked for a moment like the UK could have dived for cover into wait-and-see territory in November after a year in which Brexit appeared to cast a remarkably short shadow at times. However, these figures breathe new life into claims Britons think this storm can be weathered.
"The imminent prospect of the UK's most traumatic geopolitical lurch back in time is simply failing to tame buyer confidence, which is proving to be remarkably resilient. Even in the face of a no-deal Brexit, Britons are betting on the UK making a success of it rather than sitting on their hands and dodging untimely financial risks."
Average rents are also still creeping up according to HomeLet data
The average UK rental values continued to grow towards the end of last year, according to HomeLet data, with the average rent now £921, up 1.5% in 12 months.
When London is excluded, the average rent in the rest of the UK is now £763, up 0.7% on a year earlier.
Average rents in London are now £1,596, up 4.7% - while this is the third consecutive month where the average rent has decreased, it's also the third consecutive month where the rate of annual growth in London has been above 4.0%.
The region with the largest year-on-year decrease is the North East, showing 4.6% down on December 2017.
Commenting on the data, HomeLet chief executive Martin Totty said: "Positively for both tenants and landlords, this year we've seen stability in UK rental price growth, with increases remaining broadly in line with the rate of consumer inflation.
"For landlords there remains a sustained demand for property, with the private rental sector continuing to provide the market with both flexible and long term housing options."
Commenting on the outlook for 2019, he added: "Whilst the outlook for property investors remains positive, one of the key concerns for the market in 2019 would be a potential lack of supply in certain regions. The government's squeeze on private landlords via taxation changes and more regulation could discourage their continued participation in this important sector. Unlike the trends we saw in 2018, any reduction in supply could lead to rental increases that are above the rate of consumer inflation."
Capital data breakdown
Looking more closely at the data for London reveals that rents increased the most in the capital's two most expensive districts. The City of Westminster lead the way, with an average monthly rent of £2,444, 11.9% higher than a year earlier. Chelsea, Fulham, Hammersmith and Kensington are next at, £2,139 but rents rose faster in the west London boroughs at 16.9%.
Further down the scale, rents in Haringey and Islington also rose by 11.9% to £1,725 while in the next borough to the east, Hackney and Newham, they went up by 9.9% to £1,529.