Paul Higgs is well known within land and planning circles in the UK as he was formerly Head of Land Acquisition for Barratt Developments and held senior positions at Laing Homes before that. Some 12 years ago he set-up Millbank Group and decided to venture out and forge his own destiny by sourcing development sites and, when appropriate, to develop them himself. Like many property developers he was caught out by the 2008-9, Great Recession, and in his own words "had the rug pulled away by a major high street lender."
Paul currently lives in Seville in Spain with his partner and their children but is commuting regularly back to the UK where he is in the advanced construction stage of a £7m residential homes scheme in west London with eight individual high-quality homes.
I caught up with Paul at his Millbank Homes site at The Old Dairy in Norwood Green to talk about the current market and opportunities for creating profit from site sourcing and property development by understanding and leveraging the planning process.
I ask Paul about his primary business aims with property and land.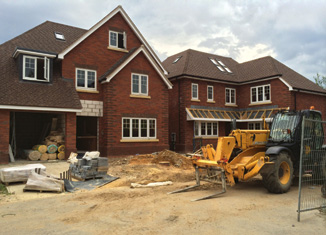 "Adding substantial value to a site prior to the build phase is where significant profits can be made and that's what I will always look to achieve," he replies. "I focus my efforts on off-market sites and by that I mean anything with or without an existing building, where there could be an angle to 'work' the planning process and achieve considerable gain.
"Once I have added real value through the uplift from the planning process, then I will either sell or look to develop the site myself, depending on the circumstances, and over time I have sold on half and developed the others myself. Having a proven track record of developing sites can often give you an edge with site vendors over the traders who may not have any interest in the sites' history or the owner's attachment to their long held asset.
"The site here in Norwood Green was acquired in 2009 and I managed to get the proposed scheme through the planning process quite quickly in about six months. It had been previously used as riding stables but that activity was in decline. The previous owner had died and the estate beneficiaries were unsure what to do, however they eventually accepted my proposal."
So when did you first approach the owner of this site about potential development?
"Well over twenty years ago," says Paul, "and I was certainly not alone in approaching the owners as it was such an obvious site for development. The site was not on the open market and that's what I always look out for, but a few parties were also approached with a view to them buying it. Apart from the offer price, I suppose my vision for the site made the most sense to them, insofar as it was deemed to be 'deliverable'.
"There was no prior planning approval and the price paid reflected this. The purchase price was £1.47m and all-in the total costs including finance and legal costs will be around £4.5m. If the eight individual units sell for the prices we expect to get for them, then I would expect to realise pre-tax profits of around £2.5m so it will have been a very worthwhile project. We have just had our first open for viewings weekend with 190 plus people attending, and so there is already a lot of interest despite the summer holidays timing. All being well, we should have the sales all wrapped up before end of the year and be off-site."
What's next? "That's a big question for me, as to some extent by being over in Spain for personal reasons I have not been as active as I previously was in looking at site acquisition and so I am looking at working with new site finders who want to work with me and perhaps to benefit from my many years of experience. I have just exchanged on another site last week but apart from some 'bits and pieces' my pipeline needs filling. I will look at most things but being realistic my main patch is London and particularly the western sideas I do believe its best to focus on a specific area which you know inside-out.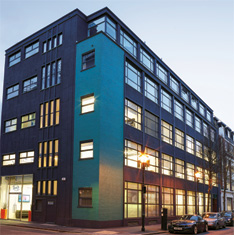 "If a site came along many miles away but it offered the potential for a considerable planning gain then the process could well be worthwhile but it's unlikely I would want to get involved in the build out. That's often a 'pain in the proverbial' but I actually do like doing it as I started-out in construction management so have a very good handle on the whole process.
"I keep a very open mind about projects but my aim is always to maximise the gain and create as much value as possible. Having said that I often see situations where vendors accept a proposal from someone who then fails to get planning approval because they try and squeeze too much out and the planners then say 'no'. It all comes down to having the experience of knowing what will work and not compromising on quality."
Having explained to Paul about the typical background of many PIN magazine subscribers I ask just what's required to become a land and property site finder.
"Eyes, ears and a nose for a business opportunity," he replies. "It's really not that complicated at the site finding stage; anyone can do it provided they know how and where to look and accept that they will have to put in a lot of legwork on the streets. However, these days there are some great online tools to aid the initial process. Obviously you need the basic know how but for anyone who is out there already actively looking for property deals in their chosen area, finding just one decent site a year could add up to a £100,000 of income from the finders fees paid by developers, occupiers or investors."
What's the typical fee? "2% is the norm," says Paul. "For a site, which after planning approval is worth £10m, the site finder could expect an introductory fee of £200,000. That's generally payable when the planning approval is achieved and the buyer of the land completes on a purchase."
I ask Paul to give an example from his own experiences on a site which he developed a few years ago, The Print House in London EC1, and to explain how that process had worked in some detail, as the penthouse on this development was the winner of the London Evening Standard New Homes Award in 2013.
"It was not an obvious site for development," says Paul, "although situated in Clerkenwell, an area which has changed quite considerably in recent years. The building had formerly housed a large print factory with machinery and offices but due to changing technology it was basically redundant. However, planning policy in the London Borough of Islington strongly resisted the loss of existing employment uses which meant most developers would consider such a situation an absolute non-starter.
However as Paul explained, with some lateral thinking, clever negotiation, deal structuring and analysis of the planning policy, it was possible to get planning permission for a mixed-use scheme. This resulted in a conversion to offices on the lowers floors with new residential on the top two floors and the twist of adding a residential penthouse with roof terrace onto the existing roof structure.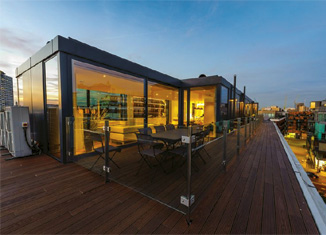 "As many of your readers will be aware, in May 2013 the government allowed changes for 'permitted development' and a large number of office building are being converted for residential use, particularly around London, although some boroughs are still strongly against this change. Planners are very sensitive to losing employment space (and jobs) in their community and so any proposed change of use should ideally take this stance into account. For example, at The Print House scheme, employment in the existing factory had no real future and so the planning approval could be easier if the correct arguments were made.
"The building was purpose built in the 1960's, mainly for printing brochures for firms in the City but it's time had passed years ago and it was a bit of an eyesore.
"I secured the Clerkenwell site in 2009 (so well-before PD existed for office to residential conversion) with an exchange deposit of £80,000 and on a delayed completion basis, although my offer was 'unconditional'. The purchase price was £3.95m however I had already pre-sold the basement, ground, first and second floors as refurbished offices and then kept the upper floors to develop myself into seven flats plus a roof top penthouse.
"After planning approval was gained the value of the upper floor residential parts rose to £2.2m, giving me a 'planning gain' on paper of £1.4m although I actually had offers at £2.5m+.
Nevertheless, although I could have taken a quick profit, I like to develop and I wanted to build-out the upper floors myself. In total the eventual mixed-use development profit was £2.5m.
"The trick on this one (as always) was finding an angle nobody else had thought of and I managing to secure a long term commercial occupier on a pre-sale for the lower storeys of the building, then converting the upper parts and constructing the new penthouse on the roof space. By doing so I was offering the planners another 60 permanent jobs with a future as well as bringing a mainly redundant building back to life.
"By taking such an approach, knowing exactly how to best structure the deal and leverage planning, everyone involved actually did very well. The original building owners sold for a very good price, the new commercial occupiers got bespoke space in an excellent location and to their exact requirements and the London Borough of Islington got an award-winning new development which actually fulfilled their policy aspirations of increasing employment."