U+I has submitted a planning application to the Royal Borough of Greenwich for its plans for Morden Wharf, a new mixed-use neighbourhood on Greenwich Peninsula, London.
The development will deliver around 1,500 new homes, hundreds of new jobs and more than six acres of high-quality public realm and a landscaped park along 275m of the River Thames.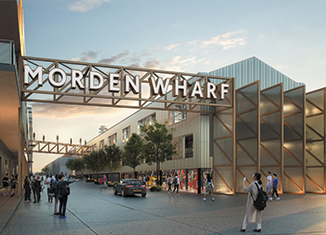 Richard Upton, Chief Development Officer at U+I, said: "Morden Wharf will bring together new homes, retail, leisure, employment and an extensive riverfront park, to create a diverse community rooted in the site's heritage. Centred on a beautiful park and world-class public realm this scheme is set to transform the area into a distinctive, green, mixed-use development, while driving growth and employment and delivering 1,500 much-needed new homes."
The proposals include 12 high quality and tenure-blind residential buildings, as well as commercial, retail and community spaces plus over three acres of riverfront park, known as Morden Park, which will offer views of the Maritime Greenwich World Heritage Site and Canary Wharf across the River Thames. The Thames Path will be significantly upgraded and increased in width to 6m (3m for pedestrians and 3m for cyclists).
The approximate 1,500 homes, of which 35% will be affordable, will include a mix of private sale, shared ownership and London Affordable Rent, which in particular will have a focus on family homes.
The scheme will also deliver a mix of commercial and employment uses that will create around 1,100 new permanent jobs. Over 2,400 construction jobs will also be generated over the course of the development programme.
An existing warehouse on the site of an old pub, The Sea Witch, will be retained to accommodate a new pub together with a mix of refurbished workspace for creative businesses and a new permanent boat house on an existing jetty.