Located in the Thames Valley, on the M4 Tech Corridor, only twenty two miles from Central London, Slough offers property buyers fast improving commuting connectivity, global employers, urban regeneration as well as property investing opportunities.
Fans of The Office, the award -winning TV show may recall an episode some years ago in which Slough was deemed one of the dullest places to work in the UK but of late it appears to be having the last laugh. A major Centre for Cities report in 2019 listed Slough at the top, or close to the top, of many important factors which highlighted that it was changing rapidly for the better. The report stated that Slough was second only to London, with regards to the highest number of business start-ups per 10,000 residents.
The good news for Slough did not end there as when it came to productivity, Slough, London and Reading were the three locations with the highest levels of productivity, with GVA per worker at least 25% above Great Britain's average of £56,600.
According to the Centre for Cities report Slough was second only to Crawley with regards to the ratio of private sector to publicly-funded jobs (almost five times as many private sector jobs). And Slough was in the top 10 again for highest average salaries, with workers earning more than in cities like Edinburgh and even Oxford, which has more expensive house prices.
Berkshire's latest property hot spot offers professionals a relatively short commute to the Capital for up to 45% less than the price of living in London, plus for investor buyers it offers competitive rental yields of up to 4.5%. According to research by TIC Finance, (based on ONS data in 2021) Slough was also identified in the UK's top three areas in the UK to have recorded the highest average growth rates and the most stable property markets over the past 10 years - with an average yearly house price growth of 6.4%.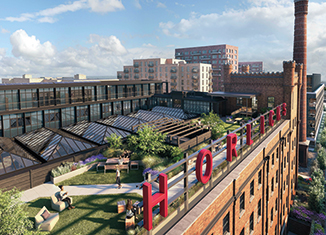 James Swindlehurst, Leader of Slough Borough Council, comments: "Slough is uniquely well-located for travel, nestling between the M4 and M40 and in easy reach of the M25 and Heathrow Airport.
"In October 2021, British Land submitted their major planning application for the regeneration of the High Street including the complete replacement of the Queensmere covered shopping centre with a new residential, commercial, shopping and hospitality proposition. Slough combines the diversity of edge-of-London, urban living with all the benefits of provincial life," he concluded.
Investing in property in Slough offers owners and tenants a wide range of advantages over London and some other UK cities. The average house price was £371,493, according to Land Registry
(July 21), almost £300,000 less than the London average. With Crossrail (Elizabeth Line) on the way, it looks like there could be further price growth down the track once the line is completed, as trains to Bond Street will take just 31 minutes and to Canary Wharf, 46 minutes.
Home to Europe's largest trading estate in single ownership, Slough has one of the highest number of global company headquarters in the UK, including O2 Telefonica, Mars and DHL.
Property developer, Berkeley, is playing a key role in Slough's journey of growth and transformation by creating Slough's first major residential town centre scheme - Horlicks Quarter, on the site of the iconic Horlicks Factory building. Known for being the town's most recognised and loved icon for over a century – it remains one of the most striking historical industrial buildings in Slough. Today, the site is being transformed by Berkeley into an inspirational development of up to 1,300 new and refurbished apartments and townhouses, with a range of amenities for both residents and the local community, all set in landscaped grounds that celebrate nature and wellbeing.
Ben Ivey, Sales & Marketing Director at Berkeley, comments: "Horlicks Quarter not only presents a unique lifestyle for owner occupiers, but also a sound investment opportunity for buy-to-let investors too. Latest figures show that property prices in Slough are 16% cheaper than the South-East average and up to 45% cheaper than London. It also offers strong rental potential – with an affluent workforce, Slough boasts one of the highest average weekly wages in the UK (Centre For Cities, 2020)."
As mentioned earlier Slough itself is undergoing regeneration and offers high investment potential - predicted by the Financial Times magazine 'fDi European Cities and Regions of the Future 2020/21' to become 'Europe's top small city of the future'.
With a strong business focus, a thriving employment market, highly-skilled workforce, a young and fast-growing population and an inspiring entrepreneurial spirit, the future for Slough and its residents seems bright.
For further information visit: www.horlicksquarter.co.uk