No industry is immune from the effects of the Covid-19 pandemic. However, the prognosis for the construction industry is particularly poor due to the potentially ruinous impact of site closures, project delays and supply chain disruption.
In this article, we take a look at the key issues to consider in your construction contracts with regards to extensions of time, changes to the contract price and the suspension or termination of projects.

The current situation
At the time of writing, the Government had told Britons to "stay at home" and only go to work "where this is absolutely necessary and cannot be done from home". The Prime Minister has since clarified that work on construction sites should continue unless it is not possible to follow Public Health England guidance.
That approach has been criticised by many high profile people and pressure is mounting on the Government to restrict construction work to only that which is "essential" or "critical". While having resisted those calls so far, it is possible (some may say likely) that the Government will impose more draconian restrictions on construction work and transport in the near future, enabled via emergency legislation. It is conceivable that any further measures may make it practically impossible for work to continue on many UK construction sites. Indeed, many contractors and developers have already taken the difficult decision to close all their sites until further notice.
So, where does this leave developers, contractors, and the supply chain now? Of course, each project is different, but when it comes to time, money and suspension/termination, it is prudent to ask the following questions: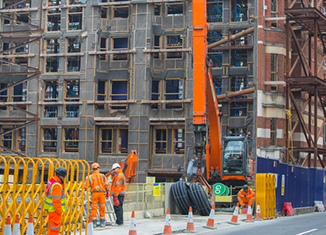 Does force majeure or frustration apply to your contracts?
A force majeure clause generally excuses a party from performing its obligations under a contract due to an unforeseen event which is in neither party's control and is sufficient to justify non-execution of a contract. There is commentary in some English case law which suggests that the effects of a pandemic could constitute force majeure. However, the concept of force majeure does not automatically apply to contracts in the UK and it is not a recognised concept in English common law (it being a creature of the French Civil Code). Therefore, the contract must specifically refer to force majeure (or a similar concept) for it to apply. It is important to check the contract for the effect of the occurrence of "force majeure", but one common position is that the contractor will be entitled to an extension of time (and relief from liquidated damages) but not to recover loss and/or expense.

If the contract does not contain a force majeure clause (or similar), the doctrine of frustration could apply. Frustration occurs when there is an event which makes the contract impossible to fulfil, or which turns the contractual obligation into something radically different from when the parties entered into the contract. More expensive or difficult is not enough. There are remarkably few examples in the English common law where the courts have been willing to find that a contract has been frustrated. However, if frustration does apply, the consequences are severe: both parties are automatically discharged from further performance.
What other provisions of your contracts deal with unexpected events and who bears responsibility for them?
Your contract might contain a list of risk items which entitle the contractor to additional time, an adjustment to the contract sum, or reimbursement for loss and/or expense. It is possible that changes in law, exercise of statutory powers by the Government and supply chain disruption might be included in this list. Read the relevant clauses and take advice on their consequences if it is not clear.

How might site closures be treated in light of the pandemic?
If developers choose to close sites in the interests of public health and safety, they might have the ability to suspend (or even terminate) the contracts. However, they should be wary of how closing the site might affect the contractors' rights under the contract. The contract might include provisions that allow the contractor to claim for time, money and loss and/or expense in this scenario.
How is labour and the supply chain affected?
Some sites are already closing because contractors and sub-contractors have taken the decision to not send their workers on site in order to protect the health of their personnel. Work restrictions further down the supply chain might make it impossible to source the materials necessary to progress works. Parties should be aware of their legal and contractual rights if goods and materials are unavailable..
Is insolvency an issue?
The construction industry is in a precarious position, as it is often reliant on wafer-thin margins. Cash flow issues could send SMEs into dire financial straits over the next few months. You should start to consider the potential implications of this increased risk.
What to do next
Commercial parties should bear in mind that it is within their gift to be flexible and creative with their agreements and agree variations to them in order to mitigate or manage the effects of the pandemic. Parties should engage with each other early, plan ahead and record all agreements or variations in writing and in accordance with the terms of their contracts. This might extend to agreeing to share some "pain". These are uncertain times for all, but a collaborative approach at this stage will surely help to resuscitate the industry once the effects of the pandemic begin to ease.