Proposals for the UK's largest-ever film studios complex to be located in 'north London' have been submitted to Hertsmere Borough Council by property consultancy Bidwells, with the Department for International Trade (DIT) and the British Film Commission (BFC) already lending support by penning letters to local officials urging them to back the scheme.
The proposed Hertswood Studios will see 1 million sq ft of film studio space, supporting workshops, offices with an additional 600,000 sq ft of commercial space for supporting businesses, and a hotel on created a 90-acre site in Borehamwood. An education facility will also be built and it will operate alongside Elstree Screen Arts Academy - helping train up local people to become the UK's next generation of film industry professionals.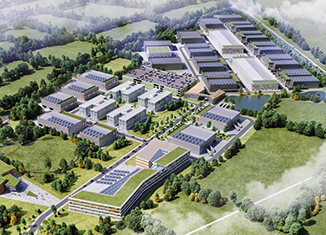 The scheme will contribute £1.17bn to the UK economy annually and create 14,000 local jobs.
Iain Keys, partner in fund management at Bidwells, said: "Our proposals for Hertswood Studios will help cement the UK's position at the top by providing grade-A purpose-built space in the most prime location. In addition, with approximately three-quarters of the UK's film industry based in and around London, investors and companies will benefit from a location that is part of the UK's biggest film and TV cluster – making it easy to attract and retain talent."
"Looking ahead, we plan on working closely with the forward-thinking Hertsmere Borough Council to deliver this scheme and progress with consulting the local communities that reside in the area and build on the incredibly rich film heritage of Elstree."
The scheme will also benefit from a further 20-acre 'backlot' for outdoor filming facilities which will be the largest onsite backlot in the UK.
Plans for the new complex, which if granted planning permission will be larger than Pinewood Studios in Buckinghamshire, have been submitted for inclusion in Hertsmere Borough Council's new Local Plan. Building work could start in 2023 with completion in 2025.
The new studios would sit adjacent to a 30-acre Legal & General-backed Sky Studio development (on which work has commenced).
Rupert Daniels, director of agriculture, food & drink, creative, lifestyle and learning at the Department for International Trade (DIT), in letter to the local council said: "DIT are supporting this proposal from Bidwells with their aim to create additional stage space, which will bring considerable investment and employment to the local area. Our continued support of projects such as these and the sector includes the introduction of capital investors to studio infrastructure investment opportunities, on-going promotion of the film and TV tax credits, and working across Whitehall to ensure the regulatory, skills and R&D environment is as supportive as possible."
Approximately three-quarters of the UK's film industry is based in and around London, in the north and west quadrant of the M25.