The Berkshire town of Slough saw in the new year on a high as it was named one of the top three commuter destinations in the UK. Also recently voted as the Top Place to Live and Work in the UK by Glassdoor , Slough is establishing itself as an affordable alternative to London, attracting young professionals and driving increased tenant demand, making it an ideal destination for savvy investors. But how is Slough maintaining this position as an investment hotspot?
Population data from the ONS shows that thousands of people are continuing to leave London for more affordable markets. Tthe commuter belt which includes towns such as Reading, Slough and Basingstoke has fast come to the forefront in recent years as an alternative to living in the capital.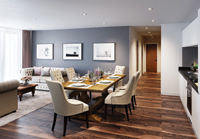 While regional cities, such as Birmingham have been cited as increasingly popular for London renters priced out of the market, Slough is continuing to buck the trend to move North. According to Countrywide, it's the top destination for tenants moving from London with 46% of homes in Slough being let to London renters.
This unprecedented tenant demand coincides with a growing appetite for apartment living - increasingly tenants are looking for a contemporary, stylish home at the heart of the action with everything they need nearby. As such new developments close to Slough's main train station and the town centre, such as Steel House by SevenCapital, are growing in popularity amongst both developers and future tenants. Data from Home.co.uk shows that Slough apartment prices have increased in value by 29% between January 2017 and October 2018, demonstrating not just its potential as a savvy investment opportunity but the growing demand for this asset type.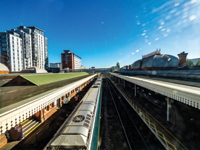 Slough's investment potential can be attributed to several factors; affordability, improved transport links, commercial opportunities and a £1billion regeneration project taking place over 15 years that started back in 2012. Slough is establishing itself as a key commercial and commuter hotspot with the introduction of Crossrail and Western Rail Access to Heathrow (WRAtH), as well as being home to the largest concentration of global businesses in the UK outside of London.
When these infrastructural projects go live, Slough and its residents will have faster direct access to both Heathrow and central London while maintaining a much more affordable lifestyle in the Slough market.
The Slough Urban Renewal (SUR) project has also played a huge part in raising Slough's profile, rejuvenating the cultural and economic landscape for the town while building new iconic landmarks such as The Centre, an £18 million leisure facility and The Curve, a library and cultural hub for the town.
All of this redevelopment has had a knock-on effect on property prices, with increases of 35% by 2020 being forecasted according to research by real estate property services firm JLL. While this is partly due to Crossrail, it could also be attributed to Slough's positioning as an employment hotspot helping generate this surging demand.
With such enviable employment opportunities and reduced commuting time, it's likely that young professionals working in London will look to Slough as a better option, whether they're renting or first-time buyers.
Andy Foote, Director at SevenCapital, believes that Slough is a lucrative opportunity for the right investor: "Slough represents an opportunity for a savvy investment from any investors that are looking ahead to new opportunities and want excellent predicted growth in a range of sectors. Slough's future is looking bright with some fantastic developments in the pipeline - offering smart living and working spaces at the heart of an area filled with employment opportunities, quality amenities and direct access to the capital."
SevenCapital currently has investment opportunities available at Steel House - a completely new build development in the heart of Slough. Offering exclusive, private community living and just 100m from a future Crossrail station, Steel House is the ideal development for a new breed of commuter that wants premium living amongst likeminded individuals.