Moda Living and joint venture partner Apache Capital Partners, together with LaSalle Investment Management, have submitted a planning application to transform a former trading estate and goods yard close to Hove station into an 'urban village'.
Subject to obtaining consent for the proposed development from Brighton and Hove City Council, Moda and Apache Capital plan to redevelop the nine-acre Sackville Trading Estate and Goods Yard into 613 homes, including nine live-work homes, designed for rent that Moda will own and operate as part of their plans for this site.
The Moda apartments will be a mix of sizes ranging from studios to three-beds, spread across six buildings ranging from 2 to 13 storeys in height, with some of the homes benefiting from sea views.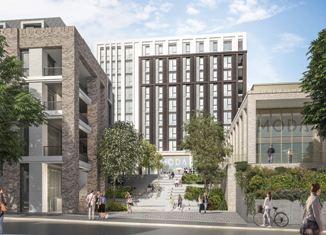 A further 265 care community apartments will be developed by Mayfield Villages (part of the Audley Group), a specialist retirement care village developer and operator and will include dedicated amenities such as a swimming pool, restaurant and village hall.
Tony Brooks, Managing Director at Moda Living, said: "As a long-term investor, owner and operator, we're committed to taking the site through planning and construction to completion, then managing the rented homes for the long-term under the Moda brand. This latest project is a major step in developing our brand offer both nationally and in the South of England. With a round-the-clock concierge service as well as many excellent amenities and green space for residents and the local community to enjoy, this will be the best rental offering in Brighton and Hove."
The £262m GDV scheme will create over 500 jobs as well as up to 90 apprenticeships and work placements for young people.
Moda will be creating approximately 58,000 sq ft of new employment space, live-work units, co-working, retail and leisure and 15,500 sq ft of dedicated health and wellbeing facilities plus 167,000 sq ft of new landscaped areas, public squares, footpaths and nature trails that ties into the wider area for residents and locals to enjoy.
Andrew Derry, Development Director at LaSalle Investment Management, said: "We're pleased to be working with Moda Living and Audley Villages on the exciting regeneration opportunity presented by this development. LaSalle has been involved with this location for an extended period of time, having owned Sackville Trading Estate since 1985 and subsequently acquiring the Goods Yard and Rayner Intraocular Lenses building. Working with Mountpark, we had previously secured planning consent for a retail-led mixed-use scheme and led the planning negotiations and stakeholder engagement to establish the concept for this new residential-led mixed-use development."
A number of Moda's homes will be offered at affordable rents with all residents benefiting from the same high-quality home and level of service and amenity as their neighbours. Amenities will include residents' lounges, health and wellbeing facilities, dining club with demonstration kitchen, roof terraces with sea views, BBQ areas, co-working, bicycle rental, car club and resident allotments.