The concept of 'levelling up' the economies of the UK regions was one of the key themes from the 2019 General Election. While much has happened since, not in the least Covid and Brexit, Teesside is perhaps the perfect example of a place that could use some levelling up.
First some background: The main commercial centre of Teesside is Middlesbrough. Alongside Darlington, Hartlepool, Redcar and Cleveland and Stockton-on-Tees it forms an urban area of around 0.5m people.
The Teesside economy is historically heavily industrial, although Teesside Steelworks closed in 2015 with the loss of 3,000 jobs. Teesport is the UK's third largest port and amongst the 10 largest in western Europe while emerging industries include professional services, life sciences, energy and renewables, and digital and creative.
Teesside was an early adopter of a Government devolution deal. The Tees Valley Combined Authority (TVCA) was created in 2016 and has a Ten Year Investment Plan aimed at creating 25,000 jobs. It has responsibility for transport, infrastructure, skills, business investment, housing, culture and tourism. The first elected Tees Valley Mayor, Conservative Ben Houchen, has taken a high profile role in regeneration policies. The next mayoral election is being held as we go to press.
Now let us look at some of the key development and regeneration issues in the area:
The South Tees Development Corporation (STDC) was launched in 2017 as the UK's first Special Economic Area. Its remit covers 4,500 acres of land around the former Teesside Steelworks and it has powers to retain and reinvest local business rates. STDC has a masterplan, which envisages the creation of a world class industrial park here, enabling investment that is forecast to create 20,000 new jobs and contribute £1bn per annum to the UK economy. It is intended that this development will also regenerate the area's town centres by boosting employment and demand for shopping, leisure and non-ancillary office uses in those places. S!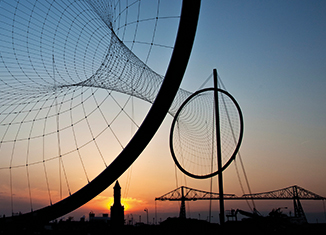 The redevelopment of the redundant Teesside Steelworks site is said to be the largest current regeneration and investment opportunity in the UK at 4,500 acres. Disputes over land ownership have delayed progress but TVCA now has control of the land, has rebranded the area as Teesworks, and site clearance and infrastructure work has begun.
GE Renewable Energy is building a new factory to manufacture offshore wind turbine blades here. BP is leading the Net Zero Teesside consortium to develop an industrial scale carbon capture and storage facility. BP's planned 'blue hydrogen' H2 facility could begin production in 2027. There are innovative plans to establish a Hydrogen Transport Centre in Middlesbrough in order to develop the use of hydrogen powered vehicles. The scheme has recently received £3m of government funding and it is forecast that it could ultimately support 5,000 jobs.
In addition to existing occupiers TVCA has submitted plans for 9m sq.ft. of further business and industrial space. It has recently been announced that a new South Bank Quay will be built here to give improved access to the site for shipping.
Under the Government's new Freeport programme the Teesside Freeport was announced this January. Teesside Freeport will cover several sites including the Port of Hartlepool, the Port of Middlesbrough, PD Ports Teesport, Teesside International Airport, Teesworks and Wilton International – which is one of the UK's main energy intensive manufacturing clusters.
It is forecast that the new freeport will create 18,000 jobs over five years, increase inward investment by over £1.4bn, boost the local economy by £3.2bn and thereby unlock further opportunities. It is anticipated that it will be in operation later in 2021.
Separately, Teesport will also be the export port for Anglo American's Woodsmith Project (formerly Sirius Minerals) future polyhalite fertiliser mine near Whitby. The mine will be connected to the port via a 23-mile tunnel. Construction on this project already employs 1,200 people in the region.
Teesside Airport was under Peel ownership until 2018 during which passenger numbers declined considerably with the likelihood the site would be sold for housing. TVCA has now bought the airport with a view to attracting more passenger services and providing 3.4m sq ft of commercial space here. Only limited progress has been made todate, although Covid has no doubt delayed things. Ben Houchen has said that the airport has the potential to drive the creation of 7,600 jobs and add £420m annually to the local economy.
Now to Middlesbrough. The town centre here had become run down long before retail decline and Covid affected all our town centres. So it is perhaps fortunate that regeneration efforts have been underway here for some years. Middlesbrough Council's aim is to see Middle