Longer term readers may well recall the previous article with Martin Skinner back in 2012. In that interview he talked about his 'bounce back' from the painful fallout he experienced following on from the 2008 economic downturn and how he had begun to rebuild his personal property portfolio. At that time - some two years ago - Martin had progressed from doing relatively straightforward flat conversions and was doing smaller scale secondary mixed-use sites by adding value, primarily converting the upper floors for residential lettings. He was sourcing his deals mainly through London auctions and as explained in the previous article, with a highly systemised analytical approach for potential purchases.
Since then we have kept in touch as he has progressed his property development strategies, primarily in the wider south London area. In April of this year Martin's latest property venture attracted the attention of the Financial Times and his company's use of a peer to peer lending platform was the lead story on the front page of the FT. The development in question (Green Dragon House) is in the town centre of Croydon and it's a quite large scale office to residential conversion site with significant potential. Within just 50 metres of this site conversion, work is already underway on the first of his current projects in Croydon (Surrey House) and Martin is also just about to conclude on another purchase close by. All three of these buildings are former offices with Permitted Development for conversion to residential use.
I met up with Martin a few weeks ago in Croydon to see exactly what he is now doing and to hear his thoughts on the current market and the opportunities created by the government allowing changes for permitted development.
Firstly, I ask why he chose Croydon for his more recent property development projects.
Martin explains: "When the Mayor of London Boris Johnson intervened to secure an agreement between Westfield and Hammerson for a huge new shopping centre in Croydon I recognised that the regeneration the area was already benefiting from would rapidly accelerate, just as Shepherds Bush and Stratford also have done and that local residential prices should outperform.
"I was convinced that decision should make Croydon a magnet destination for people keen to work/shop/play throughout the South of England, because unlike with the other Westfields to the West and the East of London there are no major competing (major) centres to the south (of Croydon). After spending a bit more time exploring the area I realised just how good the local transport links are here, as it's less than 16 minutes on the train from Victoria, London Bridge, Wimbledon and Gatwick airport. As a result I am confident that Croydon property values will continue to outperform in the years ahead."
The use of joint venture funding (JV) sources has enabled Martin to progress some larger scale deals in recent years so I asked him to briefly explain how the funding for purchase and development is done with his investor partners and what commitment he has to put in apart from that of sourcing and structuring the deals.
"I have stuck to my original model of giving my JV investors a priority return and a profit share in return for the use of their capital.
I take a profit share and a Development Management Fee for arranging and delivering the project and achieving the investors return and if a Personal Guarantee (PG) is required then I am the one that signs it rather than the investors.
"I sometimes put in a small share of the total equity requirement and often my PG can be as high (sometimes higher) than the equity that my investors put in, though I do intend to start phasing these out from the end of this year. As potentially the best operator in this space we have now started attracting offers from major funders to develop their existing offices/portfolios in return for a slightly smaller share of the profits and with a Development Management Fee. The efficiency, scale and low risk nature (relative to big PG's) of working this way with existing owners is attractive so I'm keen to follow this through."
Regular readers will be aware of the government's changes to Permitted Developments for office conversions (see page 41) which were brought in from January 2013 and there have been many applications put forward to local councils by developers, but they have not always been received with enthusiasm, so I asked Martin what are the main issues to consider with PD projects.
"Article 4 can be implemented to remove Permitted Development Rights though this takes a year if the Local Authority wants to avoid potentially expensive litigation and it can and typically is overruled by the Secretary of State.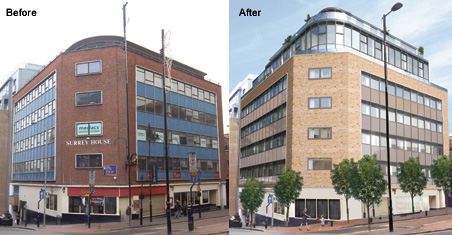 "There is currently an expiry date for office to residential Permitted Development Rights (PDR) which is the 30th of May 2016 and depending on your interpretation of the rather vague rules you need to have the property converted and occupied by this date rather than just having started work on the conversion, which is more common with developments. However, it now looks as if this deadline is likely to be extended by at least three years."
Many councils, particularly in London have sought to challenge the PDR for developers as we have commented on previously over the last year here in PIN magazine, often on the grounds of councils not wanting to see employment 'space' in their borough being lost, irrespective of the obvious need for more residential accommodation with ever increasing occupier demand.
I ask Martin to explain how he got through the first PD application and what has been the implication.
"Our first PDR or 'Prior Approval' application for Surrey House in Croydon was (along with everyone else) initially refused on 'Highways' grounds as the council did not want residents applying for parking permits.
"Thankfully I have some excellent planning consultants and planning lawyers. Between them they managed to structure a solution to the councils' primary objection to allowing new residents to park on the streets by using a Unilateral Undertaking which ultimately evolved into a very simple and low cost Section 106 agreement. We were the first developer to secure PDR consent in Croydon and our drafting has in effect become the template that all the other developers have used to secure their consents.
"As long as the building has been occupied as a B1(a) office building, it is not a listed building and is not in an area that is subject to an Article 4 restriction then it is infinitely cheaper, easier and quicker to secure a PDR consent for conversion than it is to secure a full planning consent for re-development.
"The actual process typically takes 8 weeks while the application fee costs just £80. There are of course many other costs for architects, planning consultants and specialists to ensure all the key potential objections (flooding, contamination and highways) are covered but these still come to a fraction of the usual planning costs.
"I generally follow up the initial PDR consent with planning applications for façade/window improvements, penthouses, roof terraces and additional units on the land that comes with the core office building so I typically allow a more traditional two year period to secure planning, convert and to then complete all the unit sales.
"I am able to quickly de-risk the planning and start demonstrating premium £ per sq. ft. sales, which then enables me to reduce my finance costs and if I want to, then also to leverage up the project.
"A high loan to cost can still be a low loan to value/GDV when I am achieving gross margins on cost that are consistently in excess of 50%. My appraisals typically show much lower margins at the point when we raise finance and buy. But we then outperform through working very hard to optimise the project via space efficient flat designs, higher specifications and technology etc and thereby we really maximise the returns."
*Readers should note from the example floor plan and CGI's how the space is maximized within a typical apartment and the high quality of fittings.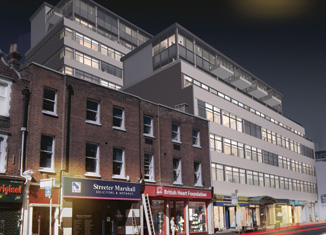 The benefits of buying an existing building and converting it rather than constructing from out of the ground are obvious but the recent sales prices Martin's company (Inspired Homes) are achieving relative to the development cost indicates a high level of profit. The Surrey House development currently comprises of 30 individual one or two bedroom flats and on current trends it will achieve profit levels in excess of 50% gross margin on costs for a 19 month development/sales cycle and a total gross profit of just over £3m with a Gross Development Value (GDV) of just over £9m. One bedroom flats which initially were being sold at an average of £177,000 are now achieving £239,794 with 20 units already exchanged from a total of 30. In addition, a protracted planning submission process is in play with the local planners for the construction of nine additional penthouses on the existing roof space.
Martin adds: "We have had two applications previously refused and are expecting a decision any day now on our latest planning application at Surrey House for the penthouse additions but this should underline to PIN readers that development of any new building or adding floors onto existing ones is very often a protracted process and involves a great deal of effort to (hopefully) achieve success.
These are obviously impressive sums, however Martin explained that on the larger development at Green Dragon House they confidently expect to achieve over £13m of profit and 71.7% gross margin on costs, with 40 exchanged of the 48 units reserved from a total of 119 to be built over the next 12 months. In addition he hopes to get planning approval for a 10 storey new-build block of 42 flats on the rear car park for which they are currently going through an initial planning application.
As can be seen from the floor-plans, the individual flats are 'compact' and space is obviously maximised, so I asked Martin what else is in the specification of their residential conversions which is enabling these substantial profit margins to be achieved.
"My background in developing, letting and managing some 2,500 units worth of professional house shares with my previous business Nice Room has given me a detailed insight into the wants and needs of young professionals in London. I work very hard to produce compact homes that still exceed all (buyer) expectations for convenience and luxury.
"At Inspired we put a lot of effort into our customer experience but in a very practical way and with a view to keeping everything affordable for average working Londoners. For example, we put in high quality durable components (like oak and granite worktops with appliances from Bosch, Hans Grohe and use NEST), which typically results in much lower utility, service and maintenance costs. By minimising wasted space and other costs for our customers and by cost effectively delivering what is typically the best quality product and finish in the area, we are able to keep unit prices down while still achieving premium £ per sq. ft. (and therefore premium margins) for our product. In time we would hope to establish a lasting brand premium."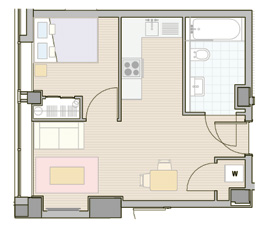 The national media have been focusing their attention on various data sources which portrays a decline in Central London property values in more recent months so I asked Martin how he sees the London and South East residential property markets performing over the next three or so years.
"I have always been most active in Inner and Greater London rather than Prime Central London, so I still see a lot of room for growth in my areas and I am if anything pushing out a little bit into commuter towns where the sites are still relatively cost effective and where Transport Authorities, Local and Central government (and increasingly private developers) are investing heavily in infrastructure and regeneration. Commentators tend to now agree that although Central London values will probably continue to grow, the 'doughnut' around London which is much more affordable (but still accessible) for many working Londoners is expected to outperform. And that's where I will be continuing to concentrate my efforts."
And finally - what are the key risks to consider? "Property development is complicated and risky," Martin concludes. "The returns can be fabulous as our Green Dragon House project illustrates - we are on target to achieve a profit of around £13m on just £2.3m of equity in two years - but it has been extraordinarily challenging. For example, we had 38 existing (commercial office) tenants to deal with as only half the building was vacant and we had to apply to about 35 lenders before we finally found a combination (LendInvest/Montello and then Maslow) that provided the funding that we needed. And if the market turns against you then you have little or no income to support your borrowing - so timing and persistence is everything."