Turn the clock back some ten years and the term 'HMO' was rarely featured at property events, particularly those attracting inexperienced investors. The acronym refers to Houses of Multiple Occupation whereby rooms within a house are let to individual tenants. Readers of a certain age will remember the actor Leonard Rossiter playing the landlord Mr Rigsby in the popular TV series Rising Damp, which did not exactly portray individual room lets in a positive manner.
But in recent years with demand for living space in many cities increasing and with supply curtailed, partly from the impact of lending restrictions, many experienced investor-landlords have turned to the HMO sector to enhance their overall returns with the potential attraction of high rental income. Unlike the character played by Mr Rossiter, a new breed of HMO property investor has emerged in recent years who recognise the value in offering good quality accommodation to their tenant customers.
Many of these investor-landlords are very 'hands on' but they treat their property assets as individual businesses and some approach HMO property management with a degree of professionalism which was quite unheard of just a few years ago. The evolvement of more flexible working patterns with the IT revolution has added to the burgeoning demand for good quality 'rooms to let' and some now offer standards of accommodation on par with good quality boutique hotel rooms. Many professional lets have weekday occupiers who work on contract in locations a hundred or more miles from their family home and who reside in HMO rooms for 3-5 days for work and then return home for the weekend.
However, letting multiple rooms is not exactly a 'hands-off' investment and whilst some people portray the strategy in a very positive light, accentuating the high returns which can be made from HMO property, the reality is that it can sometimes be quite hard work which requires a very business-like approach to achieve ongoing success.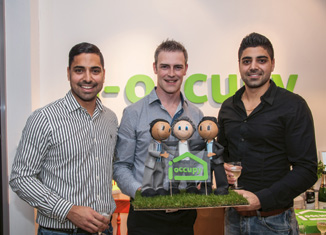 There are four main tenant groups within the HMO market: professionals, 'blue collar' workers, students and the LHA (Local Housing Allowance) segment, which is most definitely not one to be considered by inexperienced landlords!
I talked with three individuals, Darren and Bill Patel who along with James O'Grady operate HMO room lets in the Luton market and who focus on professional lets alongside student accommodation provision via their 'i-occupy' brand.
I ask the trio how they got into property and why they made that decision.
Bill Patel explains: "I have been investing in property since 2007 and it started with a 6-bed HMO up in Lincoln. I built up a successful electrical contracting business during the recession and made the jump into full time investing in 2011 and haven't looked back. I love investing and have always had a passion for property. We have some big goals and we are at the very beginning of our journey and looking forward to the future.
Darren Patel continues: "I was previously in the RAF for 7 years then I worked with Bill for a few years before going full-time in property in 2011. I decided to get into the sector because I always wanted to have long-term wealth and very much saw property as a great vehicle to do that with. I remember my mother saying 'try out one of those property conference things', so, I thought let's just have a go and find out. We did, and all the light bulbs went on for me, I knew it was the right direction to go down. Once we had made that firm decision, it didn't take Bill and me very long to quit our jobs and focus on property."
James O'Grady adds: "I bought my first house at the tender age of 18 on good advice from my father. I was always passionate about property and architecture in general, this may have stemmed from my love for Lego as a kid! I only really got into property investing in 2006 while I was a professional musician and built up my portfolio ad-hoc up until 2012 to supplement my low-income years. Now all my focus is on property and our business i-occupy and I am really loving the journey and the rewards that we are building for the future."
I first came across the aspiring threesome about two years ago and have kept in touch whilst they developed their HMO business model so I asked them to explain the progress they have made in the last few years.
James responds: "We started from nothing and have created our business i-occupy within three years. It all started with one deal and looking back, it was quite an audacious one at that, as it was a 9-bed HMO in Luton that we completed and tenanted just in time for the student intake in autumn 2012.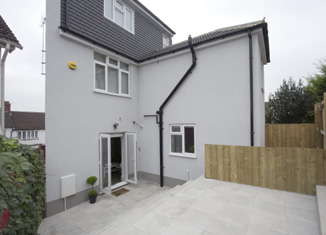 "We have had a huge amount of learning to do throughout the process and we were always very mindful of building something to stand the test of time from both a maintenance and durability perspective. During 2013 we learned that narrowing down the type of property we buy would make our analysis/decision making brief and very easy, which would in turn make our model repeatable and time saving.
"We work with an Action Coach (John Cotterell) who has had a massive influence on grounding down our enthusiasm into focused outcome for success, or avoiding the 'shiny stuff' as we call it. We moved from doing one refurbishment at a time during 2013 and the first half of 2014 to now doing two HMO projects at a time, as from this summer."
So what made you choose the previous HMO projects and what sort of returns have you made to-date? "It's pretty simple how we select our properties; we choose them on location, price, sizes and layouts. When we view a property all that's going through our heads is how many units can we get out of it and then work back from the re-finance price and deduct the development costs to give us our buy price (and sometimes they aren't too far off market value)."
I ask what with hindsight would they have done differently and Bill and Darren respond.
"Hindsight is that wonderful thing that I'm sure most of us would love to take advantage of. A couple of things we would have maybe changed; we would have stayed in our jobs a little longer as it would have been good to have had more money to invest initially, but saying that we probably wouldn't be where we are now if that was the case.
"We would have completed the first deal quicker - it did take us a while to figure out what to do as there were so many options. On the team side, we would have hired an admin person earlier to relieve some of the time spent on doing the more routine tasks.
"We would have worked our monies harder. Like anything, the main gain we were always aware of was, if we learned anything we made sure to put it into action for the next one and to keep developing ourselves though constant learning as well as what we do with, and to, the properties."
As alluded to earlier, despite the understandable attraction of the high rental returns which can be gained from HMO property, some do get the model wrong and in some cases make quite serious errors which can of course lead to losses or even repossessed property if finances become stretched from excessive void periods.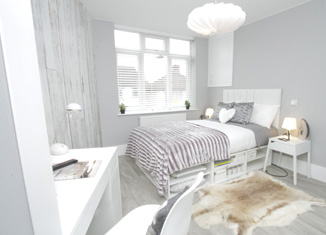 I ask Bill and Darren what are the typical mistakes that they see other HMO landlords making?
"Under maintaining properties - it's amazing that HMO's are very much a business in their own right rather than a pure investment. Well, that's our take on it, but it is interesting that so many landlords seem to love reaping the rewards but put little back into the upkeep of their properties.
"Not having little systems to manage the properties - we thoroughly believe in investing in systems to ease the everyday efficiency of managing and running a property portfolio.
"Making extra jobs for themselves- again we have come at this from a business perspective and our attitude is to 'build a commercial profitable enterprise that works and grows without us'.
"Underestimate their refurbishment or build costs - some people often look for short term savings rather than looking at the long term maintenance issues and quality of product."
I ask James to give some examples of how their approach to 'systemisation' pays off. He says: "For the business we use Dropbox -which is App based - how would you like to have your entire business accessible from a phone, tablet or computer anywhere in the world anytime of day in real time? Well that's how Dropbox works for us.
"Let MC - App based - is the management software we use for tenancies. As we have a lettings office, it allows us to grow and for the team to manage everything while we do so.
"Xero - App based - this is accounting software, which is getting more popular now, so our bookkeeper does not have to come to the office as she can access all the info and work remotely.
"Wunderlist - App based - task management tool that the whole team use so we can create and assign tasks and monitor completion.
"For the properties - our build projects are now a clearly defined schedule of works completed within a 12-14 week timescale with every detail of what goes into the project documented. This allows us to repeat the process again and again and our construction team know exactly what is expected - no delays, no extra costs and no arguments.
"Master Key - we like the idea of one key for our entire portfolio! We layer that down too, so that trades can get in on a per property basis without compromising access to other properties and also for tenants to have only one key that gives them access to all areas per individual.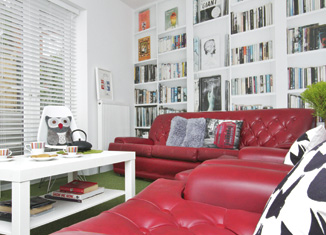 "Furniture - storage is our brief here really, as we want our tenants to have plenty and we try and cram it in everywhere we can so that the build is designed down to the last millimetre.
"Even the type of property we buy is an actual system, as not every property will work to our model and this way we won't need to view unless it will work.
"We treat our business as an enterprise that will grow and run without us and this is where the systems are critical. Along
with app based tools that allow access from anywhere, we think and plan very carefully how anything can be done so that any new member to the team can follow a process and know they are an instant asset to the company."
James concludes: "All of the above allows us time leverage to develop the business, spend more time with investors and repeatedly perform the process more efficiently time and time again. The payoff is two-fold. Long term remuneration through efficiency and instant gratification when you know a system working wonders for the team."
Unlike single let properties where one tenancy can often run for years the reality of HMO's is that many tenants are transient and their circumstances dictate a short term accommodation need. Within larger HMO's, tenants can often move on within six to nine months, although student sector tenants will generally stay for at least one academic year. As such, finding good tenants and managing a micro community within the HMO obviously requires attention to detail as James explains: "We source our tenants in the majority of cases from online marketing through Spareroom and Upad. We don't have enough need to go direct to Rightmove as of yet.
"We usually have a phone conversation to vet applicants before conducting any viewings. We also ask for guarantors even if they are working professionals, this is to gain a higher standard of candidate."
James then explains how they create successful micro communities in HMOs to ensure reliable cash flow: "This is all about placing the right mix/type of people together in a house.
It's always good to have a mix of both male and female and we never mix students and professionals as they have different lifestyles. Every house is different by default, some being very quiet and some have their own games nights during the working week. The key is having people with a pleasant nature about them and that we know will love living in the environments we create."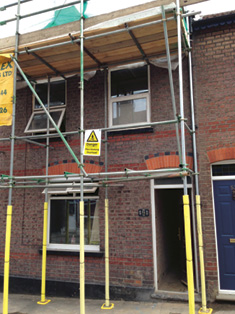 Bill and Darren outlined the two projects they have recently been working on with a summary financing