I still find it difficult to believe that this actually happened to us as we went through a two-year long living nightmare," says Donna Jeavons.
She and her friend had bought in October 2010 what they thought was a straightforward terraced property in Birmingham for £110,000 using a buy to let mortgage from BM Solutions with repayments of £324 per month on an interest only basis. The property was brought with very little work needed and came with a tenant.
Their nightmare story began when the monthly rent wasn't paid and after going through the correct procedures to access and check the property, they found that it had been systematically vandalized.
Donna had previously described the wrecked house as being 'hell on earth'. Luckily, she had taken out a comprehensive landlord's insurance policy on the property which covered malicious damage.
To recap the situation for readers, she explains what they found: "The property had been 'ripped out', the radiators were taken along with the bathroom fittings, gas fires, boiler, kitchen units, carpets, floorboards lifted and some doors were also missing. The electrical wiring was a mess so a full rewire was needed and even the light switches had been taken. The repair bill alone came to £30,000.
"The really malicious part was that the ceilings were damaged and much of the inside of house had been painted with black gloss paint, even on the internal window frames."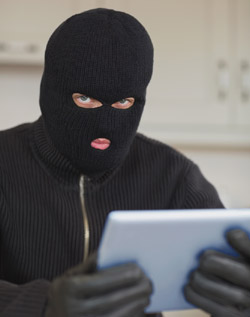 So who caused the damage? "We have never discovered who did it or why and the Police could not find out," says Donna.
As we had previously reported, their nightmare property experience took a further and totally unexpected twist when in January 2011 they discovered from their solicitors that the Police wanted to see the conveyancing file as the real owner of the property (Mr Shabir) had come forward claiming that the property had been sold without his knowledge.
"We found ourselves in this awful situation," says Donna. "We had to attend Police interviews to underline that we were just innocent victims and not a part of this fraud. Once they realised we were unwittingly involved the Police told us that the ownership aspect was a civil matter and that we should get a solicitor. In March 2011 the real owner applied for 'rectification' via the Land Registry and we had a month to respond to his claim. We had acted in 'good faith', so objected to the claim but we had been told by the Police and Land Registry to secure the property by boarding it up to prevent any further damage."
What happened with the mortgage payments? "We were told by the Police not to pay the mortgage repayment nor the property insurance and not to access the property, but we ignored their advice. We were obviously distressed with the whole situation but did not want a further problem with squatters or with our credit history being potentially impacted if we stopped paying the monthly mortgage. The insurance company had put the claim on hold, but thankfully there was no time limit on our claim."
So what happened to the person who 'sold' the property to you? Donna replies: "Out of the blue we were notified that the Police had prosecuted a case against a Mr Ali and he had been convicted with a two year prison sentence. He had been found in a recess of a loft in a house in Stoke-on-Trent, and he was an illegal immigrant. He pleaded guilty and will be deported once his sentence is completed.
"The Land Registry dialogue went quiet but in September 2011, the insurance was due for renewal and at first the insurer would not renew the policy and we also then discovered that no other insurer would touch it. However, we challenged the insurer that they had a legal obligation which they subsequently accepted but imposed new terms which meant we had to inspect the property every week and make a time-stamped written log which we did for a year.
"Finally, in May 2012 we had news from the Land Registry that although they have had previous cases of 'stolen homes' to deal with, they said that they had never had to deal with such malicious property damage. In the end they gave approval for the renovation work to be done so that we could then pursue the insurance claim for the malicious damage.
"It took four months to get the claim approved but in October 2012 we found ourselves back in control of the property and within a month my husband project managed all the work to get the house back to a decent standard.
"At the end of November 2012 the Land Registry accepted liability and advised that they would pay off the mortgage debt so that the property title was transferred back to Mr Shabir. The saga then took yet another twist which should be noted, as the lender BM Solutions did not receive the funds via the Land Registry to pay off the outstanding mortgage balance for two weeks, so during that period the property had no security for the lender attached to it as the title had already been transferred back to the owner."
Despite the mortgage redemption occurring, Donna and her friend's losses were much greater as they had been paying a mortgage on an untenanted property for two years not withstanding various other 'holding costs'.
Donna explains: "Our losses came to almost £27,000 including solicitor fees, mortgage interest, purchase costs including legal fees, insurance and council tax but the Land Registry only gave us £9,000 so we had a net loss of £17,711 as well as the costs of going to the property each week etc. The 'hassle factor' time cost over a two year period along with the ongoing mental stress of dealing with Police, insurers, etc was huge."
I ask Donna what lessons has she drawn from this sorry and very costly tale? "It's something I have given a lot of thought to and in all honesty I still believe that we did all we could have done at the time when we bought the house. We did everything correctly and used a reputable firm of solicitors while the solicitors that represented the 'seller' were also a respected local firm. The fraudster Mr Ali went to his solicitors in person with his passport and they verified his identity. The procedures were apparently then followed as per any normal purchasing transaction."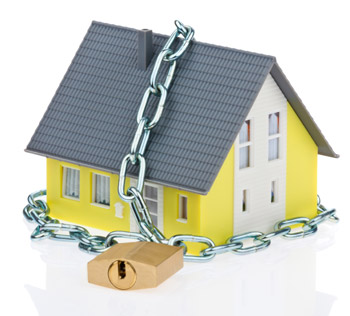 What would you advise readers to look out for? "It seems that these fraudsters target unencumbered property, so if you are buying one then I would recommend proceeding with more caution if there is no mortgage attached. If a property is empty or tenanted then that is also a potential risk because documents in the owner's name could be accessed for identity fraud to then occur. You can take out ID Fraud insurance as part of the process when buying.
"Whether you are a home-owner or a landlord you should place a restriction on your title deed with your trusted solicitor details, so if someone tries to sell your property the solicitor will need to confirm that the person selling the property is the real owner. The good news is that from 1st February 2012, there is no longer a Land Registry fee for home owners to register this restriction, as long as they do not live in the property that they wish to protect. Owner occupiers will continue to pay a small fee."
There is a link on the website below with more information on this matter.
To raise awareness of this rapidly growing fraudulent activity and the trauma that it can cause innocent victims, Donna has launched a website: www.stolenhomes.co.uk. Here you can find out more information with articles from other people who this has happened to and learn about their experiences. You can also listen to an audio recording of Andy, another property investor who was also a victim of this type of fraud.
Land Registry weblink: www.landregistry.gov.uk/media/all-releases/press-releases/2012/property-fraud-top-tips
Commercial property lawyer Richard Spencer comments: "The reality is that most buyers won't do anything to protect against property fraud. It is the solicitors who must take all steps possible to protect their clients when acting on purchases. They can:
Ask the seller's solicitor to confirm they have checked the seller's ID and/or used an online ID anti-money laundering tool. We do both but these checks won't stop fraud on their own. The online system will confirm a passport number is valid and that the passport has not been reported as stolen. It will check whether the person is registered as being on the electoral roll at that property and whether they have financial accounts, e.g. credit cards registered to the address. However a fraudster can easily pass these checks where the solicitor does not meet the client and obtain their original ID.
Register up to three addresses for the investor on the title. One of these can be an email address, so the Land Registry can quickly contact investors if they need to. The worst thing to do is to register the purchase property as being the investor's only address for service. Investors can ask the Land Registry to update their contact address for all of their properties and there is no charge for this service.
- Register a restriction which requires a solicitor to confirm that he is satisfied that the true owner is selling the property. In my view solicitors will only certify this if they have met the seller and checked his original ID.
Obtain an insurance policy which protects against fraud of this nature, e.g. HOPP by First Title or SCIP by Countrywide Legal Indemnities. This type of insurance is usually obtained at the time of each purchase but investors who acquire on a regular basis may be able to buy an annual policy. Unfortunately, most investors that I speak do not want to add £250 onto their property acquisition costs.
"The reality is that the Land Registry's policy of opening its data to the public has made it easier for fraudsters to commit this type of crime. Despite the Land Registry paying out millions of pounds in compensation, I cannot see the Land Registry closing its online services to the public."
Richard Spencer is a Partner at Temple Bright LLP.