The office sector has experienced significant change over the past decade, with the rise of co-working operators such as WeWork. These have required owners and occupiers to change to adapt to, amongst other things, the flexible working trend that is gathering pace.
The shift in the sector, along with the prospect of a hard Brexit and ensuing political uncertainty, mean that a period of further change may lie ahead. If a hard Brexit does become reality, landlord-tenant relationships could also be put under fresh strain in the face of an economic downturn.
The rise of the flexible working trend
The demand for flexible working space in the UK pre-dates Brexit and is driven by a number of factors. These range from the flexibility and, to some occupiers, cost-efficiencies offered by co-working spaces compared to the traditional office lease, to the attractiveness of being in an environment where collaboration and networking with other businesses is attractive. This is especially true of businesses that employ a large number of millennials, who look for something more in their workplace.
In 2017, 50% of workers reported working outside their main office space for 2.5 days per week or more. For employers, this shift has led to them being able to work staff around less space and, for smaller companies and start-ups that often undergo rapid growth in a short space of time, the flexible terms offered by operators is the ideal solution to cater for any increase, or decrease, in their demand for space. However, it's not just small businesses that are occupying co-working space. For many big, blue-chip companies who may require a short-term, significant increase in space for a particular project, the flexible terms on offer make sense from a commercial perspective, and meet their needs as business activity fluctuates. Consequently, the co-working market is continuing to evolve and diversify to accommodate the needs of the different occupiers.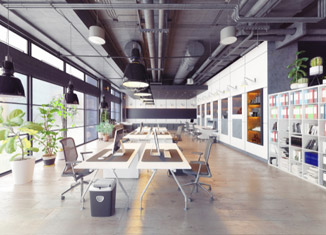 What impact will Brexit have?
With the prospect of a hard Brexit, short-term, flexible co-working arrangements offer businesses an opportunity to stay agile until an outcome is known. As a result, it may be the case that more employers look to the flexibility of serviced office accommodation until the political and economic environment stabilises. For many companies, it may make sense to shy away from capital expenditure in times of uncertainty. As a result, long-term, more traditional lease agreements may present themselves as a riskier option when compared to the agility of co-working spaces.
With political instability showing no sign of slowing, this may be another factor that assists the flexible working revolution as it continues to rise in response to business needs, as well as changing working patterns. The impact of this on the office sector was seen last year, when WeWork became central London's largest office occupier. The company rented more space in the key office districts than any other company since 2012, making it the biggest occupier of offices in London second only to the Government. With the prospect of a hard Brexit on the cards, it is likely that companies such as WeWork will continue to grow and new entrants to the co-working market will emerge, in particular from landlords that establish co-working arms in order to diversify their portfolios and enjoy some of the returns on offer with a co-working model.
How will the landlord-tenant relationship be affected?
For landlords and tenants, if a hard Brexit leads to an economic downturn, both sides may adopt a more conservative approach in their relations with each other.
It is generally the case that in times of economic uncertainty disputes increase. For example, rent reviews are more contested as each party seeks an outcome that is more beneficial to them or occupiers may try to cut costs by trying to minimise the work required to comply with their repair obligations. For landlords, they may argue that a tenant hasn't complied with the terms of a break option in an attempt to frustrate the tenant's ability to break the lease and, in turn, keep the lease and the income stream alive. Landlords may also push the boundaries of what is recoverable under service charge provisions in an attempt to limit the extent of irrecoverable costs.
The exact way in which landlords and tenants will respond to economic downturn cannot be predicted, but an increase in disputes is possible as both sides aim to put themselves in an optimum position and mitigate risk.