The Unite Group now provides housing to almost 50,000 students and plans to continue to build an additional 7,000 beds over the next three years, according to the company's latest announcement.
Unite, a manager and developer of student accommodation, recently announced its full year results for the year ended 31 December 2016. The firm made a profit before tax of £201.4m, down from £388.4m in 2015. Despite this, it has increased its final full-year dividend from 15p in 2015 to 18p in 2016, an increase of 20%.
In 2016, the company managed to increase rents by 3.8% for the second year in a row and expects rental growth of 3-3.5% this year. It also reduced its overall LTV by another percentage point last year, to just 34%, and the entire operational portfolio of 49,000 beds is currently valued at £4.3bn.
The company has acquired Aston University's 3,100-bed on-campus portfolio for £227m, while disposing of a 4,175-bed regional portfolio in February 2017 for £295m.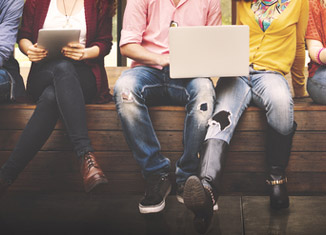 Outlook remains positive
Unite reports that reservations for the 2017/18 academic year reached 75% in February, which is a record level for that time of year (2015: 67%).
'University intake continues to grow with record intake in 2016, with high to mid-ranked universities performing most strongly with acceptances up 3%,' the company stated, adding that it does not expect the EU referendum result to 'significantly impact student numbers.'
Richard Smith, chief executive of Unite Group, commented: "Looking forward, we will maintain the quality of our portfolio through development and also strategic acquisitions such as our recent purchase of Aston Student Village, our first on-campus. Students and universities remain our core focus and we will continue to invest in our operational capabilities. This strategy, plus the ongoing strength of UK higher education, student numbers and the demand for beds means we are confident in further growth."
But the number of applicants has dropped
However, recent UCAS figures for the upcoming academic year (2017-18) revealed a 7% fall in university applications from EU students prior to the end of January deadline. This comes alongside news of a wider drop in the number of students going on to higher education.
There has also been a decline in UK students applying - and like the two previous occasions when applications have fallen - this has been when fees are being increased.
Figures from UCAS show that, overall, applications to university in the UK have dropped by 5%. The fall in applications in England was 6%, which was three times greater than in Scotland, which fell by 2%, but which remains without tuition fees. Applications from Wales fell the most (7%) and Northern Ireland fell by 5%.
I ask Paul Richmond, director of corporate affairs at Unite, why the company continues to expand so rapidly (with a 14% increase in total beds in the development pipeline) when UCAS is reporting a fall in demand. "You have seen a decline in applications, but what we would say is that the number of applicants still outstrips the number of university places by 150,000. Also, if you look at the recent UCAS figures, they are at an industry level, not by institution. But if you look back at last year's figures, the decline in numbers is at second-tier institutions. We have made a concerted effort to focus on arrears with first-tier institutions."
Richmond adds: "Even if you took a 6% decline from across our customer base it is not a huge problem. Also, the decline in the pound and concerns over going to live in the US at the moment means that the UK is likely to get more non-EU student applications now."
Does Unite actively target non-EU students? "We set up a small office in China to target that market and we are generally fairly confident about the growth of the UK student sector but we are not complacent and we are watching the application numbers when they come out. We also think that the government here could do more to encourage studying at UK universities."
Becoming a real estate investment trust
Unite converted to REIT status at the start of 2017. I ask Richmond what the advantages are of REIT status. He replies: "We started as a property developer and we still are really, but we also have a very secure revenue stream. Because investors like that, as they do with self-storage REITs for example, by becoming a REIT it guarantees those investors that we will pay a dividend plus there are significant tax advantages."
He concludes: "We are not just landlords, we try to add value through the service we provide as a way to drive rental growth. The property market has been volatile is some sectors but if you look at the student market it is more income focused and therefore more resilient."