The latest figures from the 2015-16 English Housing Survey published on the 2nd of March confirm continued growth in private renting and falling levels of home ownership.
The number of private rented households rose to 4,528,000, up by 250,000, which suggests the fall of 99,000, seen in the previous year, was a temporary blip.
Mortgaged home ownership continued its decline. Numbers fell 252,000 to 6,598,000, their lowest level since 1984, and at 29% of all households, the lowest share of tenure since English Housing Survey records began in 1980.
The numbers also highlight a widening of the generation gap in housing. Older mortgage free household numbers rose by 258,000 in a year, to 7,732,000. At the same time, younger aspiring home owners continue to struggle to access the market due to rising house prices and increasingly tough lending criteria.
Other key trends highlighted by the new survey include:
The number of 25-34 year old households in the private rented sector has risen by over 800,000 or 110% in the past 10 years, and 56,000 in a year, to a total of 1,537,000.
In 2015-16, the 35-44 age group saw an even bigger increase in numbers of households in private renting, up 78,000, albeit total numbers remain lower at 1,038,000, having risen 505,000 in the past 10 years.
Levels of home ownership amongst the 35-44 age cohort have fallen by more than a million in 10 years (-1,136,000 to 2,211,000).
Among the over 65s, the number of home owners without a mortgage has gone up 684,000 in five years and over 1m in 10 years. The number of debt free over 65 year old households now stands at 4,704,000. Savills estimates that this age group now holds a total of over £1.5trn of housing wealth.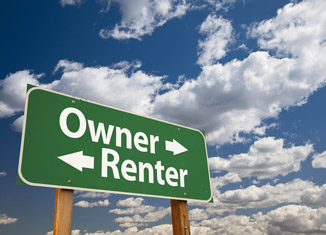 All this said, the data is showing an increase in mortgaged home ownership among 25-34 year olds in the past year of +49,000 which may be a reflection of Help to Buy helping people onto the ladder, and to a lesser extent, the impact of the bank of mum and dad.
Lucian Cook, head of residential research at Savills, said: "The continued rise in under occupation among home owners reflects growth in mortgage-free home ownership and reluctance to downsize. This continues to put pressure on our housing stock and means that housing delivery isn't just a numbers game. It is also about providing the right type of housing in the right locations, particularly for downsizers.
"These figures support calls for (Government) to encourage downsizing in order to free up under-occupied homes, and an exemption from the 3% additional homes stamp duty levy for the build to rent sector to boost the delivery of much needed rental housing."
David Miles, professor of financial economics at Imperial College London, discussed the incoming changes to personal income tax relief for landlords, which will take effect from 1 April 2017, at an industry event in early-March. He said that the arguments put forward by the government for raising stamp duty for second homes were "bogus and mistaken".
Miles added: "The government justifies these tax changes as a move in the direction to remove distortions that were against homeownership and in favour of renting. I think that is patent nonsense. Before these changes were introduced it was already in favour of homeownership because there is no capital gains tax to pay on your own home but landlords have to pay capital gains tax."
Miles predicted that a private landlord affected by both taxation changes might need rent to rise by 20-30% more to get the same rate of return, "however, I doubt that landlords could raise rents by that much. Some landlords will have their margins squeezed and some will simply sell up."
He added that it was "hard to view this as anything other than just a further distortion against the rental sector", and forecast it was plausible "house prices may continue to edge up" rather than fall back.
Miles said that in London the average ratio between median house prices and median earnings has trebled since the mid-1990s and some London Boroughs have extraordinary high ratios. The Borough of Camden for example has a ratio of 20 times median annual earnings. He added: "Most people have to borrow twice as much, relative to their incomes, than they used to. However, it turns out that the UK is in an unusually unfavourable position in terms of trajectories of house prices and affordability. We do have a rising population, especially compared to other European countries. So it is not difficult to see a plausible scenario in which house prices relative to income don't fall back but continue to edge up from where they are at the moment."